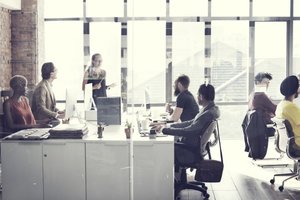 With the rise of younger generations, and more employees working remotely, there's no doubt that the workplace is a constantly changing environment.
Many of the workplace trends are driven by the advancement of technology. Email is out of favour. Virtual reality and wearable devices are already on their way in. Demand for smart offices, collaboration tools, cloud-based sharing apps and intelligent automation tools are on the rise.
Flexible work environments will continue to evolve and the "gig economy" will expand. We will see an emergence of people analytics, personal branding and everything in between. With human capital still the most valuable commodity; don't expect to see these trends slowing down anytime soon.
1. Blended workforce
Future Workplace, an executive development firm in the U.S. dedicated to rethinking and re-imagining the workplace, did a study entitled The Gig Economy.
Following a national survey they found that companies across the board are hiring more freelance workers. A growing number of highly skilled professional and technical talents are opting to be independent.
Instead of choosing regular full-time work, they're doing "gig" work or short-term projects for a variety of employers. One reason for this trend is the rise of millennials and Generation Z in the workforce, who are passionate about flexibility and maintaining a work/life balance.
There's also growing appeal among organizations to utilise "on-demand workers" to address specific issues, thereby reducing payrolls and insurance costs.
2. Working remotely
A survey of business leaders at the Global Leadership Summit in London found that 34 per cent said more than half their company's full-time workforce would be working remotely by 2020. A full 25 per cent said more than three-quarters would not work in a traditional office by 2020.
The advantages of working remotely include the fact that it reduces employee stress, reduces management costs, boosts motivation and often enhances teamwork.
3. The smart office
According to a Dell study 80 per cent of millennials said workplace technology impacts the roles they accept. Half of all employees and three in five millennials believe technology will make face-to-face conversation obsolete in the near future. The addition of collaborative tools and innovative technologies, such as Internet of things (IoT) and Virtual Reality (VR), will soon become vital to workplaces and technologies that focus on efficiency, interconnectedness, productivity and sustainability will become essential.
The office of the future will not be defined as four walls and people in cubicles; rather it will be a collaboration of individuals regardless of location and proximity to each other.
Email is following desk phones in becoming obsolete as an efficient office communication tool. New software systems like Slack, Trello, and Basecamp are making it easier for teams to collaborate on work, communicate with one another, and manage projects.
4. The rise of agility
Isaac Getz, Co-Author, Freedom, Inc.; Professor of Leadership and Innovation, ESCP Europe Business School, says the liberated business, is "one in which the majority of people have the freedom and responsibility to take any initiative they think is best, in alignment with the organization's objectives." Autonomous cells within a company, which work independently on specialised projects but that come together to collaborate when necessary is on the rise.
5. Gen Z enters the workforce
Gen Z are the follow-up to the now infamous millennials, born in 1995 onwards, they are entering the workforce for the first time. All of them have grown up in a world of online everything, never having lived without social media or smartphones.
According to a recent survey by Randstad of more than 4,000 workers, Generation Z is the first group to care about flexible work schedules more than healthcare. A large number of Gen Z workers are also opting to work instead of going into debt to attend university or college.
According to Peter Economy in his Inc. article titled 5 Surprising Things You Should Know About Generation Z this diverse, highly motivated, and aspirational group of workers are eager to learn and are looking for jobs that offer professional development and solid career paths.
6. Enhanced employee benefits
In his Forbes article 10 Workplace Trends You'll See in 2017, Dan Schwabel points out that a bad candidate experience is quickly communicated on the Internet, potentially costing a company top talent and as a result, lost revenue.
With studies showing healthy and happy employees are more productive than those who are not, good companies are investing in their people.
Individually designed wellness programmes for employees are becoming increasingly common, with benefits that include freshly made organic free food; daily mindfulness, meditation and yoga practice along with sleeping pods and relaxation rooms.
The rise of wearable technology is on the increase with some companies already equipping employees with devices like Fitbit, but the next generation of wearable devices will take things to the next level. Devices like Feel by Sentio claims to monitor your emotions and stress levels. Levl helps you plan your weightloss routine, by measuring the levels of acetone in your breath and providing unique insights about your metabolism.
Expect to see these wearable's becoming part of employee incentives.
In the Future Workplace Study conducted by research firm PSB indicated the majority of workers place an emphasis on functional benefits like those above, with 63 per cent of millennials and 55 per cent of older workers (over 35 years old) indicating they like high tech perks, such as smart offices, augmented/virtual reality (AR/VR) and Internet of Things (IoT).
7. Biophilic workspaces
From large multi-national companies to smaller businesses, workspace design has been at the forefront of CEOs' minds, as an extension of their brand's ethos and culture. High profile companies such as Google and Apple have been creating workspaces that are not only cool, collaborative and full of tech, but also healthy and eco friendly.
Many of us spend the majority of time behind a computer with artificial lighting and synthetic furniture, research shows biophilic environments lower stress and improve productivity. Biophilic design was a term that was popularised by psychologist Edward O Wilson in the 1980s. He discovered how the increasing rate of urbanisation leads to a disconnect with the natural world.
So expect to see more living walls of moss and fern and glass facades that offer employees a clear view of the natural textures and open spaces.
8. Personal branding
According to Sodexo, personal branding is taking on a life of its own and is becoming increasingly significant, as employers look to leverage the power of employees' personal brands for the good of the company.
In a world where so many are competing for attention, work and influence will demand higher standards of personal branding. For those who can afford it, there are professionals
for hire specialising in personal branding, for everyone else there are numerous books, podcasts and videos on the subject.
9. Virtual reality
No longer the domain of the entertainment and gaming sectors, virtual reality is already being used by NASA to train astronauts and in the medical field to train doctors. We will see more and more VR providing trainees hands-on-experience. Some companies are already utilising VR for recruiting purposes, offering candidates a 360-degree perspective that includes an introduction to potential co-workers and the candidate's likely workspace. Virtual reality visualization tools like VRtisan and IrisVR have already been created specifically for construction, architecture and engineering fields.
Allowing workers to collaborate on the same design, at the same time, sitting in different countries.
10. Office attire and workplace become more casual
Several years ago Richard Branson appeared on the cover of Forbes Magazine cutting off his tie, calling for more informal attire.
With the rise of younger generations, and more employees working remotely, there's no doubt that the workplace is becoming increasingly casual.
From: Herald News