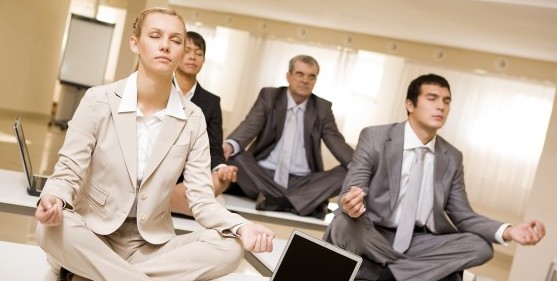 Onsite corporate yoga classes tailored to your needs
"People are recognising investing in health and wellbeing before it becomes a problem. Preventative health is a big trend in not only fitness circles but the corporate world as well." – The Wellness Festival

Sydney Corporate Yoga are the workplace yoga experts in Australia, bringing quality yoga instruction to you.

We are a mobile yoga studio providing on-site yoga at corporate offices in Sydney, Melbourne, Brisbane, Adelaide, Perth and Darwin.
We have consulted with over 40 corporations: law firms, banks, broadcasting organisations, grocery chains, airlines, media companies, educational institutions, insurance companies, food manufacturers, engineering firms, logistics companies, real estate agencies and professional service organisations.
We also provide private yoga classes for company executives at the office or at home.
All of our teachers are internationally accredited and certified for 500 hours with Yoga Australia and Yoga Alliance (USA), with $20 million professional and public liability insurance. Our practitioners regularly attend the major global yoga conferences such as the International Yoga Conference (Rishikesh, India) and Bhakti Fest (Joshua Tree, USA) to bring you the latest teachings from the best yoga teachers in the world.
Contact us via email or by phone on 1300 677 925
According to a recent Gallup Poll 80% of people feel stress on the job, and nearly 40% say they need help in managing stress. Yoga classes in the workplace enable employees to stretch and de-stress in the convenience of their office, eliminating travel time to classes.
Yoga helps create a positive, productive and energetic workplace.
The performance of a corporation depends on the performance of its key assets – its employees. Healthy employees are happier, more productive and cost effective.
According to a recent study on worksite health programs, savings of $3-$6 were realised for every $1 invested in corporate wellness programs. The yoga retreat at your office.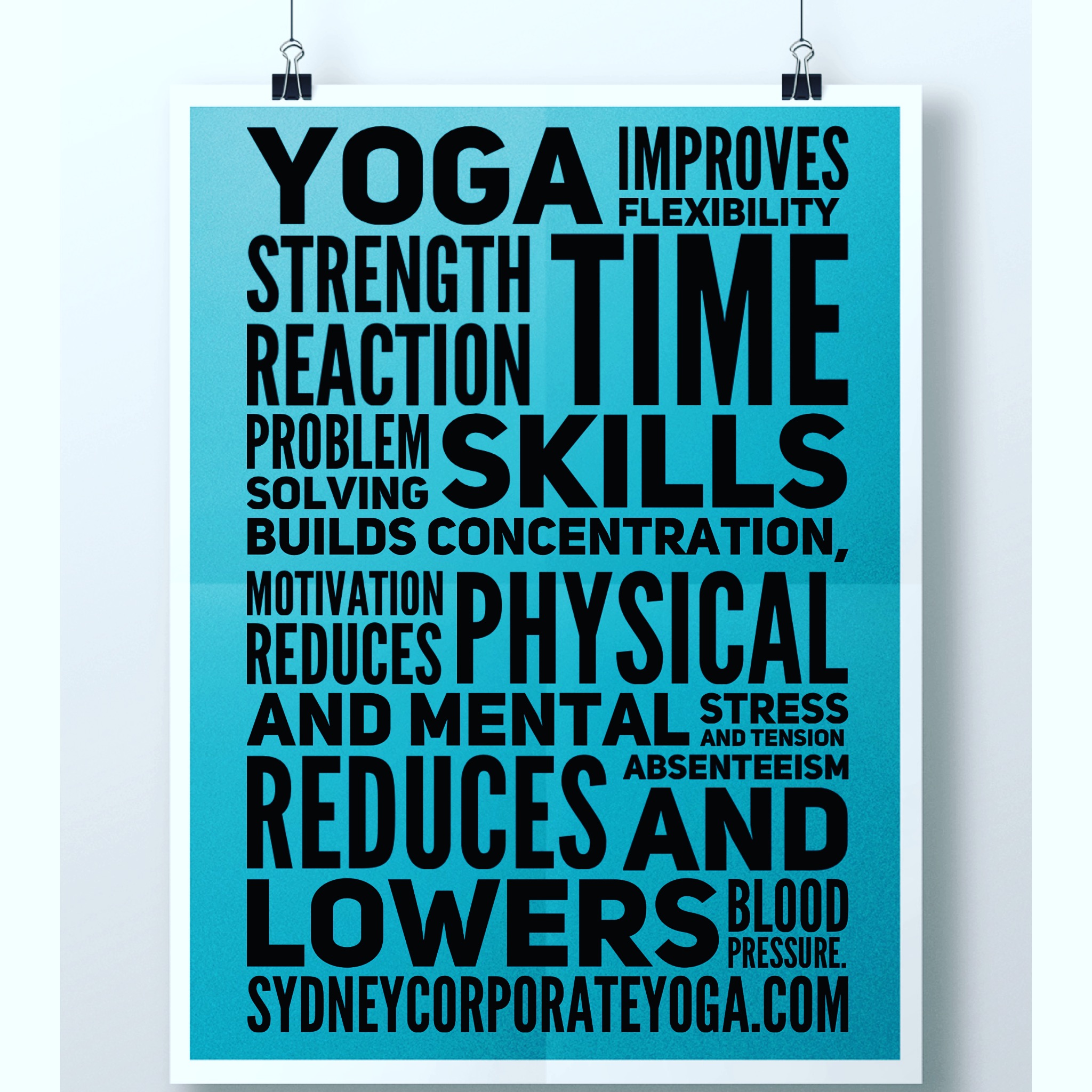 Yoga classes usually take place in a boardroom or multi purpose space and are taught by our certified yoga instructors. Classes may be held in the morning, before work, at lunch time or in the early evening after work.
A typical corporate yoga class runs for about an hour and includes relaxation, asanas, breathing techniques and tips on how to reduce stress, minimising health problems associated with sustained periods of time at a computer screen or sitting at a desk.
Dedicated client management to provide you with the right yoga instructor.
Onsite yoga classes are customised to suit your company's philosophies, staff needs and requirements and range from the slow and meditative to energising and active.
We discuss how to prevent hand-arm injuries and eyestrain and what to do about backaches and fatigue.
Our techniques are accessible to most people regardless of their physical fitness and can be performed during the work day.
Yoga can be used to invigorate and revitalise during long conferences or team building days.
A variety of workshops on relaxation, meditation and restoration are also available.
Take a look at our client testimonials.
Corporate yoga is utilised by major corporations such as Westpac, Amazon, Google, Nike, Kelloggs, General Mills, NBC, PepsiCo, United Airlines, Intuit, Cigna, Eddie Bauer, Sony Music, AOL Time Warner, Reebok, McKinsey & Co, Yahoo, Deutsche Bank, Proctor & Gamble, HBO, Aetna, Huffington Post, Target, eBay, Intel, Harvard Business School, US Dept. of Justice, AT&T, Merrill Lynch, Apple and Boeing to:
Improve employee's health
Reduce stress and anxiety
Team building
Provide happier and more productive employees
Increase mental alertness in the workforce
Demonstrate to employees that they are valued
Boost company morale
Promote a sense of workplace community
Help employees learn to use and replenish their own inner resources
Integrate an overall corporate wellness program
Minimise health care expenses

We bring yoga directly to you – Australia wide

Yoga improves flexibility, strength, reaction time, problem solving skills, builds concentration, motivation, reduces physical and mental stress and tension, reduces absenteeism, and lowers blood pressure.
Sydney Corporate Yoga provides programs to support wellbeing, workflow and employee morale including:
Group yoga classes
Yoga retreats
Executive one on one yoga sessions
Yoga and stress workshops
Meditation and relaxation
Wellness lectures
Corporate retreats.
Take a break and stimulate creative thinking by incorporating yoga into your work-life balance.
We also have over 1,000 specially curated articles on corporate yoga, meditation and workplace wellness.
For more information and for an obligation free meeting email Sydney Corporate Yoga or call us on 1300 677 925
Sydney Corporate Yoga – your one stop corporate yoga resource in Australia.
Save
Save
Save
Save
Save
Save
Save
Save
Save
Save
Save
Save
Save
Save
Save
Save
Save
Save
Save
Save