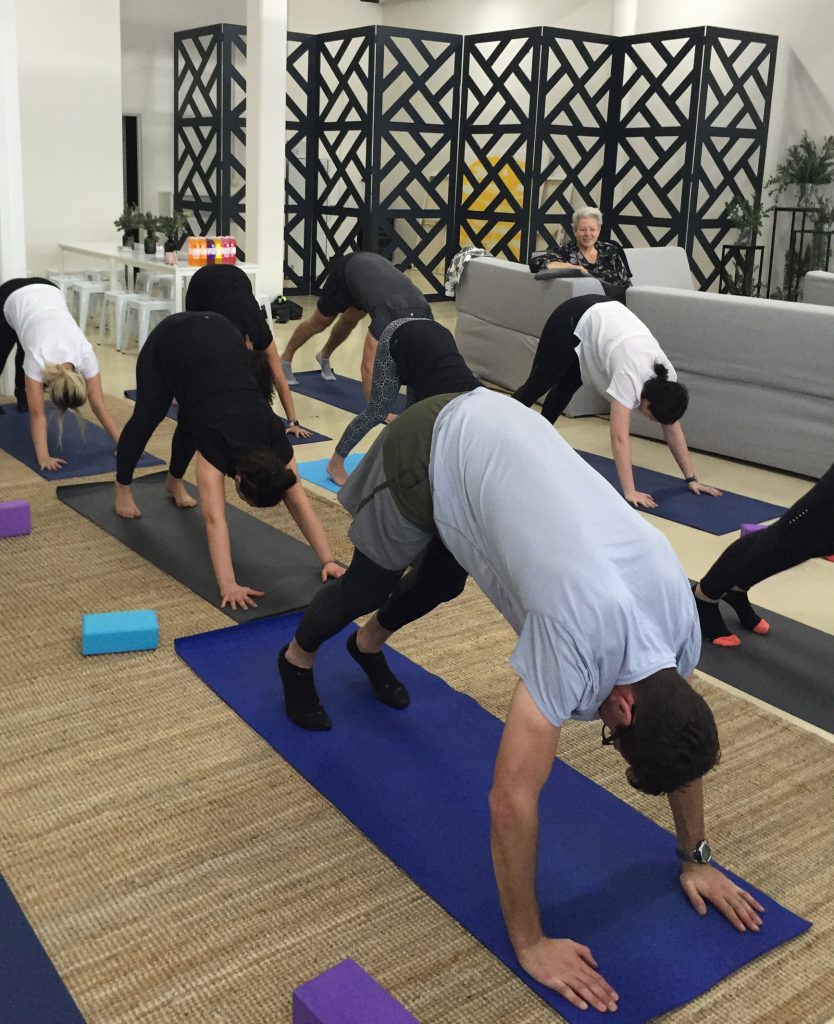 Here is a selection of testimonials from Sydney Corporate Yoga Clients:
We are a financial services firm based in Sydney's CBD.  We initially contacted Sydney Corporate Yoga's CEO Anita to run a "Yoga at your desk" session as part of our quarterly staff Professional Development Day.  Anita was an absolute pleasure to deal with and planned the yoga session to fit our brief and budget to an absolute T.  Our team was really engaged in both "Yoga at your desk" and the meditation session, (some staff still regularly practicing some of these movements daily)!  Overall, there was very high praise from the team and we would have no hesitation in recommending Anita and Sydney Corporate Yoga to anyone who may be interested. Thank you!!
Qi Wealth
Anita was incredibly patient and tailored the classes and poses to suit everybody's different level of skill (and flexibility!).  The classes were a fantastic stress release after a busy day in the office, and a great way to get to know colleagues that I don't usually get to work with day-to-day. Thank you again.
Lander & Rogers Lawyers
In an era when there is so much need for grounding in our bodies, minds, emotions, and spirit, I was blessed to participate in a workshop session with Anita, CEO of Sydney Corporate Yoga.  She gave simple techniques to clear the mind and de-stress from the everyday obstacles we face.  Her stories and humour continue to remind me that we are all simply human and that we all need to protect our health with a stable life/work balance.  I am now a firm believer that a taking a couple of minutes out of your day to do meditation to achieve the right balance is necessary.  Thank you for your wisdom.
Knight Frank Australia
I had never participated in a yoga class until my work had arranged corporate yoga with Sydney Corporate Yoga. The classes taught me a lot over the 10 sessions including breathing techniques & yoga positions. It really opened me up to working with my body and breath and I found areas that were so tense which I never really used before (Especially after working at a desk for long hours). After each session I walked away feeling vibrant, energised, relaxed and stress free. It is not a feeling that any other sport could give you – it feels amazing! Anita is a wonderful teacher and always walked into class with a positive energy and a great vibe – ready to go! Anita is knowledgeable; she really understands the body and shared information throughout each session. It has been an amazing journey and I will take my learnings from the classes with me and continue to use these regularly as it is the key to balancing Mind, Body & Soul! Thank you Sydney Corporate Yoga. Thank you Anita!
Mortgage House
I found Anita's yoga instruction at AON to be beneficial in a number of dimensions.  She is experienced as an instructor, knowledgeable of both yoga and physiology, and offers personalised adjustments, which really distinguish high-calibre classes.   I have been practicing yoga for some years and yet found that I was leaning new things from Anita, not all of which were directly related to yoga. For example, her close observations led her to suggest that I could benefit from magnesium supplements and indeed this made a palpable difference.  I would recommend Anita to companies that want to facilitate workplace wellness for their employees.
AON Hewitt
Thank you so much Anita for your classes. I enjoyed them greatly and felt privileged to be part of such an intimate group of yogis/yoginis. So thank you again for your generosity and dedication.
Architect
Thanks so much for our de-stress session yesterday – everyone loved it and it really set us up well for the day.
Team Event Sydney
Some great feedback on the yoga sessions from my manager today! Anita was a great facilitator and able to deal with our staff well. Everyone was happy and relaxed after the yoga classes so well done! Thanks!
UTS:INSEARCH
Sydney Corporate Yoga classes were challenging, informative, relaxed, inclusive and flexible. With people of varying abilities in the class, everyone felt included and valued. She is also inspiring with the beginners yoga.  Anita is personable and approachable and everyone felt comfortable with her.
LTC Language & Testing Consultants
Hi. Just wanted to give you some positive feedback. I've been attending a lot of different gym classes in an attempt to get fit for a pending surf trip and most of the instructors are superb! Special mention and praise to yogini Anita. Many thanks.
Sydney Cricket & Sports Ground Trust
Anita is a yoga teacher who it is a delight to work with. She is focused and caring and stretches your ability that little bit further in every class – you start looking forward to coming back to next weeks class for another session of yoga and the ability to stretch further and much more agile and flexible. 
Investor
Anita is my fabulous yoga teacher! I had a lot of difficulty finding a yoga teacher interested in working to my level and ability and making my level of yoga rewarding. Anita has done has achieved this and so much more.
Production Accountant
Anita is a wonderful teacher who demonstrates great care & flexibility in her teaching. She is sensitive to students needs & very thoughtful in her planning. This combined with a deep spirituality & creativity makes Anita an ideal yoga teacher with thoroughly beneficial & enjoyable classes. 
Corporate Counsel
I am relatively new to Yoga, and have found Anita to be the perfect teacher for me. She is very patient, explains and demonstrates clearly and is very aware of her student's health issues and abilities. I am completely happy with her teaching and love that she is always learning and extending her knowledge.
Theatre Designer
Being new to yoga practice I was fortunate to have Anita as one of my first instructors. Lucky me, she was extremely perceptive, patient and one of the loveliest people I have been fortunate to meet. Anita always knows how to get the best from her students.
Wine Merchant
Anita has provided corporate clients with amazing yoga classes. The feedback we receive is consistently outstanding. Participants leave feeling inspired and motivated to change their lives in a significantly positive way. Feedback from clients, including Westpac and UTS Insearch has been consistently positive. I highly recommend her.
Holistic Services Group
Anita has worked as a yoga teacher and stress management facilitator for several of our health & wellbeing exhibitions and corporate client programs on an ongoing basis since 2008. In this time, Anita has been a great asset to our company. Client feedback in relation to Anita's skills and knowledge has always been positive. Anita has a professional attitude, is sincere, punctual and adaptable.
Fix Australia
Yoga with Anita is the highlight of my week. She encourages us to listen to and align with our bodies and energy as she guides us through the different poses and corrects our alignment. I always leave class feeling balanced and grounded.
PHD candidate Sydney University
Working with Anita as a yoga coach was a wonderful experience. Her assessment was thorough and her approach to gaining a better understanding of my health and lifestyle was highly professional and insightful. Not only did I gain an enormous amount from her advice and exercises, but I enjoyed our time spent together. Anita has a very warm heart and her caring nature makes the process of developing a trusting relationship with your yoga coach very easy.
 The Jazz Factory
Save
Save