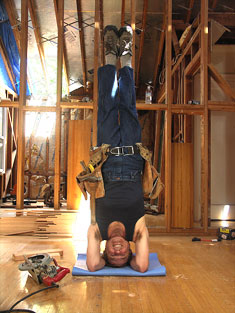 As part of Mental Health Awareness Week a Sussex builders' merchant in Ringmer is to run 'Yoga With Your Boots On' sessions.
The 30-minute morning session has been developed specifically for those in the construction trade.
With a recent survey revealing that 85% of construction workers felt that the industry today does not adequately address issues of mental health in the workplace, Chandlers Building Supplies felt it was important to do something to help highlight this.
Simon Cook, branch manger of the Ringmer branch, said: "We hear lots about the corporate world trying office yoga to improve productivity and help relieve stress. What about the construction and trade workers who literally put stress on their muscles and joints working on a manual job all day? With the focus on Mental Health Awareness we felt it is important to offer something to our customers that has proven health benefits to body and mind."
From: Heating & Plumbing Monthly
Save
Save