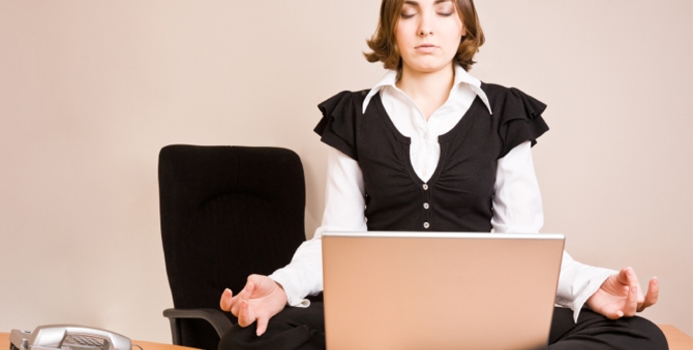 How to Do Office Yoga
In these free how to videos you'll learn tips and techniques for yoga stretching exercises you can do in the office, for your neck, shoulders, spine, wrist, legs and more to relieve work stress at your desk.
Corporate Therapeutic Yoga
Is it possible to maintain a healthy body despite being stuck behind a desk all day? The long hours of immobility and excessive typing and mouse usage that define the modern office work environment can put considerable strain on the head, neck, spine, and back, as well as the elbows and wrists, legs and hips. It is vital to keep the body as active as possible despite these conditions so that circulation, metabolism and other bodily functions keep operating as they should, and hopefully prevent any serious medical conditions like carpal tunnel syndrome from developing. A few simple stretches throughout the day could make a vast improvement in your physical and mental well-being.In these free video clips you will learn a routine of stretching exercises that will help your body continue to operate at optimum effectiveness throughout the day and most can be performed easily while sitting at your desk. Expert yoga instructor Leta Koontz demonstrates several stretches for the body to help relieve tension in your shoulders, spine and neck, hamstrings and more. She also offers a relaxing meditation breathing technique to help you keep stress under control. These yoga positions are a perfect low impact way to improve your work day.
Learn how to do an easy neck stretch yoga exercises to relieve stress and give yourself some energy at work in this free instructional video on office yoga.
For more information on Corporate Yoga programs in Australia:

Contact:    
Email: Sydney Corporate Yoga
Tel: 1300 677 925